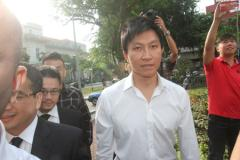 http://www.todayonline.com/Hotnews/EDC120725-0000160/City-Harvest-Churchs-Kong-Hees-statement-regarding-charges
City Harvest Church's Kong Hee arrives at the Subordinate Courts on Jul 25 2012. Photo by OOI BOON KEONG.
Updated 11:43 PM Jul 25, 2012
SINGAPORE – Founder of City Harvest Church, Kong Hee, has released a statement on the charges brought against him. The following is his statement in full.
"The Prosecution has brought 3 charges against me, which I have carefully considered with my lawyers.
"I do maintain my integrity, and will rigorously defend that integrity against these charges.
"I have and will continue to place my faith and trust in our judicial system. I will explain the facts and circumstances to the Court, and am confident that I will be vindicated.
"Sun and I would like to take this opportunity to thank God for all the people who have blessed us with their love, kindness and prayers during this challenging period of time. We have been tremendously humbled by the support and encouragement from the public, family and friends. We especially thank all those from City Harvest Church and the Christian community at large. They have been a constant source of strength.
"I respect the Court proceedings which are underway, and will not make any comment about the charges until the appropriate time and forum."