http://www.todayonline.com/singapore/live-updates-verdict-city-harvest-church-trial-expected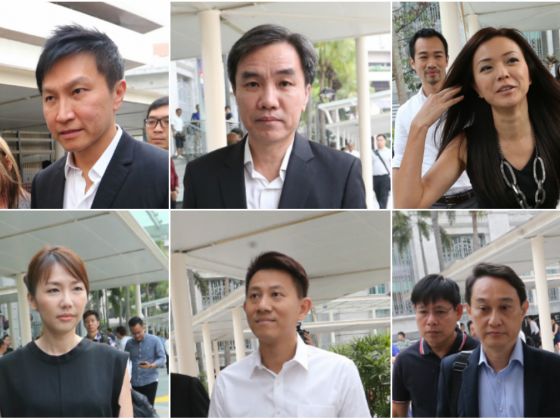 (From top left, clockwise) City Harvest Church's Kong Hee, John Lam, Serina Wee, Sharon Tan, Tan Ye Peng and Chew Eng Han have been found guilty of all charges on Oct 21, 2015. Ooi Boon Keong/TODAY
They were 'inextricably tangled' in two conspiracies of misusing church monies, says judge
By Kelly Ng
kellyng@mediacorp.com.sg
Published: 9:14 AM, October 21, 2015
SINGAPORE — The six City Harvest Church (CHC) leaders have been found guilty of various charges of criminal breach of trust and falsification of accounts.
CHC founder Kong Hee, his deputy Tan Ye Peng, former church accountant Serina Wee, former church finance manager Sharon Tan, former investment manager Chew Eng Han and former CHC board member John Lam were today (Oct 21) convicted of three to 10 charges each.
All six are out on bail. The bail stood at S$1 million each for Kong Hee, Tan Ye Peng, John Lam and Chew Eng Han. The bail for Serina Wee and Sharon Tan was at $750,000 each. They are not allowed to travel.
Delivering his oral judgement this morning, Presiding Judge of the State Courts See Kee Oon said that all six were "inextricably tangled" in two conspiracies of misusing church Building Fund monies to buy sham bond investments to finance the Crossover Project — which aims to use the music of church co-founder and Kong's wife Sun Ho to evangelise — and thereafter misusing make church funds to cover up the first amount to defraud auditors by falsifying accounts. More than S$50 million was found to have been misappropriated.
JC See found that while Tan Ye Peng, Chew, Wee, Sharon Tan and Lam had acted in trust of Kong's leadership, it does not exonerate them. "No matter how pure the motives and how ingrained the trust in leaders, these do not exonerate the accused persons."
While the extents of their involvement were distinct, Judicial Commissioner (JC) See said none could be excluded from their implication in the conspiracy.
He added: "They had convinced themselves morally and legally permissible to temporarily use money from CHC funds when they knew it was not."
JC See said he could not accept that the accused persons genuinely believe sale of Ms Ho's albums would generate enough to redeem the bonds, and therefore cannot accept their claims that they believed the bond investments were genuine.
He also found that use of Building Fund monies to finance the Crossover shows dishonesty, as the Crossover "was not for the purposes (the fund was meant for) since by (the accused persons') own admission it was meant to service mission".
The prosecution will have to file written submissions by Nov 6, while the defence will file mitigation pleas by Nov 13. Oral submissions to be delivered on Nov 20 at 9.30am.
They will be sentenced at a later date.
Shortly after the judgement, Ms Sun Ho issued a statement on CHC's Facebook page saying that the CHC Management Board are "disappointed by the outcome". Ms Ho said Kong Hee and the rest are "studying the judgement intently and will take legal advice from their respective lawyers".
CHC's operations will continue, with the new management and new Church Board that were introduced in 2012 running the church, said Ms Ho who called on the church to "stay on course with CHC 2.0".
"God is making us stronger, purer and more mature as a congregation," she said on behalf of the CHC Management Board.
Separately, the National Council of Churches (NCCS) said it was "saddened" by the conviction of the six CHC leaders. "It is our hope and prayer that good will come out of this whole episode, especially as a reminder to pay greater attention on church governance in the matter of management of funds," said the NCCS president Bishop Dr Wee Boon Hup and NCCS General Secretary Rev Dr Ngoei Foong Nghian in a statement.
NCCS also urged the Christian community to pray for the church, and noted: "NCCS wishes to assure all fellow Singaporeans that while it appreciates the freedom of worship in our nation, it will also guide and advise members of the Christian community to constantly observe the law of the land."